Login
Log in if you have an account
Dont have an account? Register
Product details
EXOspikes™ footwear traction sets a new standard for versatile winter traction that delivers true cross-terrain performance for trail runners and hikers. Designed to take a beating, EXOspikes™ introduces an industry-first TPU Traction Matrix that is more lightweight and abrasion resistant than steel, and enables users to take on a mix of terrain and conditions—including frozen mountain trails, icy roads, and everything in between. EXOspikes™ combine more than two decades of winter traction technology and experience, and embody the high performance, reliability, and safety outdoor enthusiasts expect from Kahtoola.
Best Use: Trail running, hiking
Terrain: Mountain trails and roads
Conditions: Ice and packed snow, dirt, mud, rocks
Footwear: Trail running and hiking shoes
Product Features
 
Spike Design: Twelve integrated spikes per foot deliver three levels of traction. Tungsten carbide tips bite into ice and packed snow, aluminum steps grip uneven surfaces, and TPU lugs dig into loose terrain.
TPU Traction Matrix: An industry-first TPU Traction Matrix is extremely durable and more abrasion resistant than steel. The open design quickly sheds snow and adapts to a wide range of flexible footwear.
Reinforced Eyelets: Using a patented eyelet design, tough TPU inserts reinforce key stress points, allowing the elastomer harness to be lighter and stronger.
Integrated Toe Bail: Using the same technology and TPU as the reinforced eyelets, an integrated toe bail provides added security and prevents the toe from pushing through the front of the elastomer harness.
Raised Heel Tab: Allows for easy pull-back and removal.
Elastomer Harness: A new TPE elastomer harness geometry optimizes fit and allows for easy entry. Low-profile and highly durable, it remains stretchy in cold temperatures, down to -22°F (-30°C)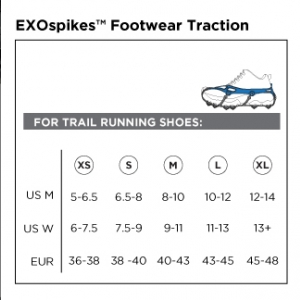 Reviews
0 stars based on 0 reviews
Add your review
Review EXOspikes™ Footwear Traction